0512-58166901
0512-58162915
service@chinasamhwa.com
No. 1, South Road of Dongnan Street, Tangshi, Yangshe Town, Zhangjiagang
More..
SAMHWA PAINTS beautifies the world by use of color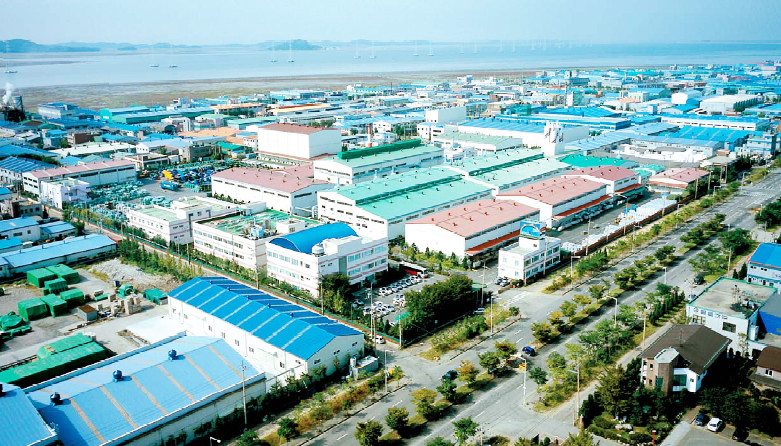 SAMHWA PAINTS, as an integrated manufacturing enterprise, since its establishment in April, 1946, by virtue of more than half a century of history, world-class quality and leading position in Korea's paint industry, creates a colorful world existing between the nature and the human harmoniously with an honest attitude. The 21st century is an era of infinite competition where changes and creation are required. In order to complete the future cause successfully, SAMHWA PAINTS has accumulated cutting-edge technology capacity for a long term, invested into the equipment boldly, trained excellent human resource by use of professional education, and implemented transparent operation. Therefore, SAMHWA PAINTS has owned extensive success factors. Meanwhile, with pro-environment as a principle for enterprise growth, launching pro-environmental products including natural paints, low-toxic paints, water-soluble functional paints, powder paints, etc. all the year round, and becoming a model for modern chemical enterprises. In the 21st century, the paint industry aims to establish a beautiful world, and we extremely believe that SAMHWA PAINTS will be the protagonist to complete this dream. With the second development faith as a basis, and the world market including China market as a goal, through constant research and development, improvement of production process, enhancement of overseas marketing, uninterrupted operational innovation, etc., SAMHWA PAINTS will become a first-class enterprise equipped with global competitiveness. Please bless it and pay attention to SAMHWA PAINTS who will leap again.

SAMHWA PAINTS(M) SDN.BHD(Malaysia)
  SAMHWA PAINTS(M) SDN, BHD was established in August, 2011, which was jointly contributed by SAMHWA PAINTS and local legal person Federal company in Malaysia. As a cooperative legal person, it expands the market in Asian countries, which become a global strategic stronghold for SAMHWA PAINTS moving forward to the global paint manufacturers.
SAMHWA PAINTS VINA(Vietnam)
  SAMHWA PAINTS VINA established in Vietnam in 2010 is engaged in production and supply of plastic paints with mobile phone special paints as center.
Shanghai Baosan International Trade Co., Ltd. (China)
  Shanghai Baosan International Trade Co., Ltd. is a sales legal person responsible in China which is invested by SAMHWA PAINTS in order to realize the advanced operation, mainly selling PCM paints, industrial paints, heavy anti-corrosion paints and architectural paints produced by production legal person - SAMHWA PAINTS (Zhangjiagang) Co., Ltd. and Weihai SAMHWA PAINTS Co., Ltd. who own cutting-edge technology strength as well as automobile paints, plastic paints, etc. produced by SAMHWA PAINTS, covering the whole paints field.
SAMHWA PAINTS (Zhangjiagang) Co., Ltd. (China)
  As a legal person established in Zhangjiagang in 2014, it is a modern emerging enterprise mainly producing paints used for PCM coiled material, heavy anti-corrosion industrial paints, plastic paints, etc. The company introduces the advanced paints production technology and equipment from Korea, and the Korea Headquarters appoints senior managers who own advanced management and production experience to manage the production quality Meanwhile, there is an excellent Products Development Center built to produce various kinds of high-performance paints according to ISO9001:2000 quality management system and ISO14000 environment management system strictly.
Weihai SAMHWA PAINTS Co., Ltd. (China)
  As a wood paints professional manufacturer established in Weihai, Shangdong in 2000, it is mainly responsible for production and supply of special paints including industrial paints, floor paints, etc. at present.